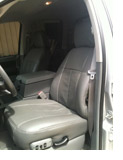 I couldn't be happier with the seats, I actually just put them on yesterday. I'm not much of a 'forum' type person, but I did write an in-depth review on a forum, that can be seen
Here
I've also attached some photos of the seats, although it's a bit difficult to get good photos of the seats when they're in the truck lol.
I had literally zero complaints about the seat covers, and there really wasn't a lot that I can suggest to improve on. I'm a Bosch and ASE master certified technician, and I work on high-end European cars like Porsche, Ferrari, Mercedes, etc. for a living, so I like to think that I know my way around a vehicle pretty damned well, and it's VERY rare that I can't find something to bitch about, but there is literally not one single thing I would do differently with the seats. The only thing I could possibly think of would be to maybe have a velcro strip on the inside of the front seat backs to help suck the center of the back rest in to the seat, and maybe sew the other piece of velcro to the factory seat back, but that would involve removing the factory seat cover and somewhat diminish the 'ease of installation' with the Clazzio seat covers - that, and I'm fairly certain that once the leather 'accumulates' itself (or whatever the proper word is) they'll form-fit a little better - I know from experience that new leather upholstery typically looks a little funky for the first week or so until it gets used a bit.
I absolutely LOVE the seats, and I would strongly recommend these to anyone who wants real leather seats but doesn't want to pay an arm and a leg for them. Once they were installed, I showed them to a few customers (who drive high-end European cars) and asked if they could guess how much the upholstery cost, and if they were direct-fit replacement covers or slip-ons, and every single one of them guessed that they were replacements (NOT slip-ons) and that they cost well over a thousand. I couldn't be happier.
And no, of course I'm not going to tell anyone that they were less than $500, haha.
Thanks for a great product!!
-wil
The seat covers look and feel great. The leather is of high quality and the perforated inserts add a nice touch to the overall look of the seats. The stitching and embroidering is impressively well done and exceeded my expectations. The only complaints I have are more against the nature of seat covers themselves than your particular seat covers. 1) The closure for the headrests does not fit as tight as I would like it too. 2) The center arm rest / console cover is a little awkward. 3) And the rear seat covers seem to be just a little loose. Like I said before I rate your product very highly overall. The complaints I do have are just something your have to accept with seat covers in general. I can say that your product is better in quality and fit than any other I have seen for anywhere close to your price range. I can also say I am impressed with your customer service in this day an age and would not hesitate to do business with you again.
-Gordon S.
Tony, Seat covers are great. Super easy install with seats out . Great fit will send photo's soon. Again great product will rec to anybody needing seat upgrade.
-Thanks Darryl
Seat covers look great Tony... Waiting for another set to get here for my brother in law in Canada...he saw the pics of mine and could not believe they are seat covers...a few other people i know are also looking at getting them....went to a car dealer the other day and they offered me 2K more for the truck than they did 2 months ago...did you get the pics i sent you? Thanks again....
-Brad B.
The seat covers are great. Fantastic product. I've been showing them off to all my friends. You should be receiving some more orders from Canada
-Thanks Mike
Tony, Basically everything went fine. They do take a few muscles to pull them on. I'm 55 so I just did one seat at a time then did another the next day and so on. The quality of the workmanship in the seat covers is quite good, I've gotten many compliments. Almost looks like OEM. The quality of the PVC, aka "fake Leather" is amazing, I would get them even if they were just made of that entirely. The one minor complaint is that the flaps sewn into the rear seat back covers to accept the seat belt heads; the interior portion of the flap is cut way to small and comes out of the flap when removing the seat belt head. The good news is that I never tuck the things into those little pockets anyway. The instructions were quite humorous on occasion, they appear to be written by a Asian Engineering major from MIT. All in all: GOOD STUFF, I like them. (have already recommended you to some other people)
-John M.
Covers still look great people don't know that they are covers.
-Anthony B.
Tony, The kit worked out great, the fit is what I wanted but was not sure that I would get for this price. My wife and I plus all of my friends really like the outcome. I will be purchasing a kit for the wife's new 2012 Ford Edge soon. Only problem I have with the kit is the fit on the back of the front center seat. I always keep the seat folded down and use the console on the back, the cover on this piece leaves more to be desired. The cover has open edges and loose ends that stuff and dirt can fall in to and just looks cheap. I have planed to take the back rest of this seat to an upholstery shop and have it wrapped correctly. Attached are some pics of the before during and after.
-David S.
Hi Tony, The covers worked out great! They look fantastic! My only complaint is the holes for the armrests on the front buckets as well the rear bench could use a little more fine tuning but its a very minor thing. I am very pleased and everyone that looks at them thinks that I bought completely new seats. They are shocked when I reveal that they are just covers. I also enjoy the added foam cushioning. The seat covers made the original seats a lot more comfortable! I'd recommend these to anyone!
-Jacob S.
Tony Got my kit today. I got excited and forgot to take before pictures. I installed the front seats and WOW I am very happy I chose your product. The head rests are a little stuborn,but the results are worth the effort. Can't tell the difference between yours and my buddies factory leather. I will try to take pictures before and after I do the rear seat after the holidays. Thank you for an excellent product. Clazzio is King. Merry Christmas to you and your staff.
-Thanks again Dave
Hi Tony, Seat covers r great so far. no problems. I think head seat covers would be good if they r closed with zippers, because they coming out plastic groove frequently. middle seat of back row needs covering in cargo area. those r thing i would to suggest for improvement i will try to upload pic's in feature. happy holidays
-Thanks Gokul
Nice to see someone that really cares about customer satisfaction. I tried to send you this earlier and included several pictures with it only to find that it did not go through because of my email service limitation on size. The short version of that is the Clazzio Seat Covers were received in perfect shape and exactly what I ordered. The instructions were good enough to complete the task of installing them myself, although it took longer because of doing it the first time. The suggestion of "warming" them prior to installing them was a great aid. The Texas sun did it's part and they went on rather easily. I am very satisfied with the product and everyone, including the wife, believes them to look OEM. I think that is the best compliment anyone can give you on an upgrade. Repairing the worn seat or having someone else install covers would have cost a lot more than the cost of these covers. I am still very satisfied with them and appreciate your effort to provide them to me.
-Richard P.
Tony, The fit and finish are awesome. I removed the seats from the vehicle to install seat heaters and changed out the gray trim pieces at the same time, so the installation of the seat covers went pretty easy. I have a feeling it would have been a little more difficult if it was done in the vehicle. The part that took the longest was definitely the headrests.
Since I installed an XLT center storage console, I did not use the middle seat/arm rest cover. I did install it on the middle seat sitting in my basement though, and although the seating surface is nice, the area that covers the cup holders looks very poor in my opinion. I think with some slight changes to the design, such as removing the cup holder tray and running the seat cover underneath it, it would look much better.
I did post my experience on an F150 forum site and did get a lot of great feedback. I don' have any high quality pics on it yet, only the iphone pics I posted on the F150 site. If you look throught the postings, other people were not to pleased with the middle seat cover style as well.
-Thanks Patrick