Clazzio Ford Focus FAQ's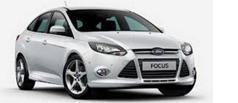 The Ford Focus is a rather simple car to install our Clazzio leather seat covers in. If you've never installed a Clazzio Leather seat cover before, it should take you around 2 hours. Things to look out for: When tightening the strings under the seat, make sure they do not cross any sharp metal, and that they are run above the seat slider frame.
What is included in my kit?

2012 + Ford Focus Sedan or Hatchback
Front Seats
Back Seats
Headrests
Center console lid is NOT covered

See Parts List

Are my door panels included?


You can order extra PVC Materials Here for door panel inserts, and armrests if you'd like.



I don't know what color to order.


If you are unsure which of our covers will best match or compliment your vehicle's interior, Request Samples, or call us at 855-252-9946 for advice, We're here to help!