30-DAY MONEY BACK, SATISFACTION GUARANTEE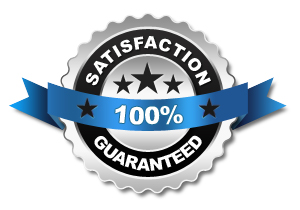 Overview:
As the largest Authorized Retailer for the Clazzio brand products, we want you to know we've got your back! The manufacturer of Clazzio products has a very strict policy in place for returning products that states, "any installed product can NOT be returned" This policy is in place due to the nature of the hand sewn seat covers that cannot be re sold as new once installed. Make sure you select the correct vehicle, order the correct colors etc. (Samples can be ordered
here
prior to ordering your kit to ensure the correct color is ordered) Clazzio seat covers also come in a big box and shipping is expensive, so the policy is designed to protect you as the customer in additional expenses.
Over the years we have realized that customers, regardless of this policy, still want to be able to install the product fully to decide on how they like them as a cover, compared to the more expensive alternative, which would be leather replacement.
At Clazzio.com, we want you completely happy with your new Clazzio seat covers, because it is our policy to give you the best customer service possible! That's why we are proud to offer our EXCLUSIVE 30-Day Money Back Satisfaction Guarantee when you buy from us.
(Clazzio.com is the largest authorized dealer of Clazzio brand products, not the manufacturer)
Simply read the instructions below to see if you meet our eligibility requirements.
Eligibility Requirements:
Items eligible are LEATHER insert seat covers, colors that are in stock ONLY.
Items NOT eligible:
Suede insert covers, Quilted insert covers, Full PVC covers and ANY LEATHER KIT that is a CUSTOM order, Orders that include Embroidery also count as custom.
These covers, are specific to each year, make, and model. Covers ordered for a vehicle other than what they are intended for are not eligible for return, and are non refundable. Fitment is not guaranteed. Incorrect covers may interfere with proper airbag deployment. We are not responsible for injury or death due to improper ordering of vehicles we do not carry.
Custom orders are considered, any order that has multiple colors for body, insert stitch AND any solid color, leather seat cover, that we normally do not stock. MEANING: For most vehicles, we stock solid colors like all black, all gray, or all beige. If you custom order all red, or all ivory, or all light gray, even though it's a solid color, it's considered a custom order, because it is not one we normally stock for that vehicle. If you order a solid color that we consider a custom order, you will be notified before we process the order. Price for solid color still remains $100 less than a multi color custom order.
How it works:
Fitment is always guaranteed. Keep in mind these are hand sewn. It is rare but if you feel a piece is not fitting right, we are always here to help you!
If you are not 100% satisfied with your new covers,
GENTLY
un install them, and return them in the same box you received them in.
If headrest holes are torn more than 1/2 inch, your return will be rejected, and you will be responsible for all shipping charges.
You MUST Contact us to receive your RMA number, and return address. 855-CLAZZIO 855-252-9946
You have 30 days, from the day you receive your seat covers to install them and use them. We recommend giving them a few weeks to settle to the shape of your seats. You can even retighten them after this period which helps give them a tighter fit. After you drop off the package at your local shipping company, (preferably FEDEX) Send us your tracking number. The package must be scanned within the 30 days for this policy to be valid.
(If you want, we are willing to give you our discount FedEx pricing for your return label). You need to call us to make the label for you, and we can deduct the cost from your refund.
Retail for our box size is normally around $50-$60 one way. We can help you pay closer to $30-$40
After we receive the kit and inspect it to make sure all the parts are in the box, we will give you a refund, minus a 10% restocking fee. Some Banks take 3-5 days for this refund to process.
What is NOT covered under the 30-DAY Money back, satisfaction guarantee:
The clazzio brand covers are designed as a DIY install (Do It Yourself) If you pay to have them installed, we do not cover anything towards that.
Shipping. It is solely the customers responsibility to pay for return shipping of the product.
Any international taxes, duties or fees.
Any additional items sold on clazzio.com such as Embroidery, seat heaters, air freshners, cleaners, floor mats, LED lights etc. Those items may have different policies for warranty.