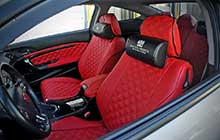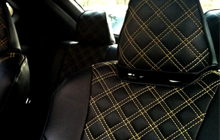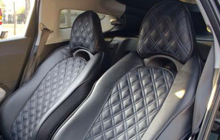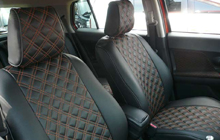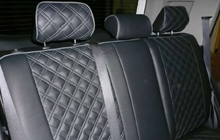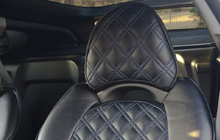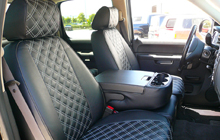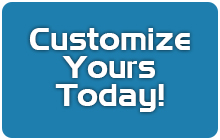 ---
Quilted (Diamond Stitch) PVC
Our Quilted Seat Covers are made with our High Quality, NON-Perforated PVC, with a double stitched Diamond Pattern on the Insert, and front of the headrest. Available colors include Black, Gray, Light Gray, Beige and Ivory. This alternative material is popular because it costs less than the genuine leather, plus gives you a very
VIP
look. It is only available in our double stitched Diamond Pattern.
Why Double Stitched?
We double stitch our quilted seat covers to give extra strength to the insert. This also makes a slightly puffy diamond effect, allowing air to circulate around your body, helping you stay cool in the heat.
(If staying warm in the cold is your goal, you might want to order one of our heated seat kits.)
Our Quilted PVC is a high quality, durable material. We offer a 1 Year Warranty on any Quilted PVC seat cover.
(See our Warranty Details)
What is Piping?
Piping is what is used along the seams of the seats in place of stitching. On our other types, such as Leather, you get Double Stitching along the seams. Available colors are Black, Gray, Light Gray, Beige and Ivory.
Is The Whole Seat Cover Quilted?
No. Only the Insert and the front of the headrest are quilted. (Middle of the seat where you sit. Back of seat, and bottom of seat)
Why? If the entire seat cover was made out of leather, we would not be able to make the covers fit so tightly over the original seat. *Remember, these are seat covers, not a seat replacement.
What Is The Body and Headrests Made Out Of?
The body of the seat cover is made out of our High Quality PVC. This material is very durable, and has a leather texture and look to it. We use this material for the stretching quality, which allows us to make such tight fitting covers, giving your car a FACTORY FIT, not just a store bought loose seat cover look.
How Thick Are The Seat Covers?
Our seat covers are made with 1/2 inch of memory foam, to give you just a little bit more cushion and comfort, while still looking factory tight! Your behind will be rather happy.
How Do I Install The Seat Covers?
For most vehicles, a typical install will take about 2-3 hours. Some vehicles require cutting the PVC around certain seat pieces, such as the Lumbar Support Knob, or the Power Seat Control Panel.
For tips and instructional videos on installation
Visit our
Facebook page
Or go to our
VIDEO page
Can I Have a Trained Professional Install My Seats?
Maybe. :) Depending on where you are. You can always give us a call at 855-CLAZZIO and ask us questions. We can also direct you to your nearest Authorized Clazzio Dealer who can assist you with your install. Prices range anywhere from $100-$500, depending on vehicle type and heated seat install.
How Do I Keep The Quilted PVC Clean?
Simple. Use a damp cloth to wipe your Quilted PVC seat covers clean.