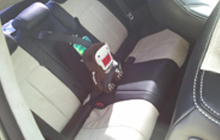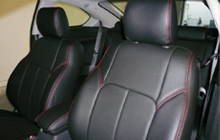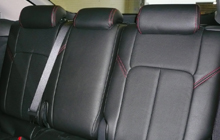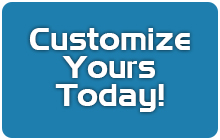 ---
Perforated PVC
PVC looks like our leather seat covers, except it has a smoother texture. Available colors include Black, Gray, Light Gray, Beige and Ivory. This alternative material is popular because it is considered "Vegan Friendly" since there is no Leather used.. The center insert is perforated like the leather as well.
Why Perforated PVC?
Perforated PVC breathes to help your body stay cool in the heat.
(If staying warm in the cold is your goal, you might want to order one of our
heated seat
kits.)
The PVC used in a Full PVC kit is of a lower quality material than the PVC used in our Leather kits. We do not offer any warranty on any Full PVC seat cover. (Fitment is Guaranteed) Want better durability? Consider upgrading to
Leather
. Our Leather Kits have a 1 Year warranty.
(See our Warranty Details)
Is The Whole Seat Cover PVC?
YES. The body is a smooth PVC, and the middle insert is our perforated style PVC. (Middle of the seat where you sit. Back of seat, and bottom of seat)
How Thick Are The Seat Covers?
Our seat covers are made with 1/2 inch of memory foam, to give you just a little bit more cushion and comfort, while still looking factory tight! Your behind will be rather happy.
How Do I Install The Seat Covers?
For most vehicles, a typical install will take about 2-3 hours. Some vehicles require cutting the PVC around certain seat pieces, such as the Lumbar Support Knob, or the Power Seat Control Panel.
For tips and instructional videos on installation
Visit our
Facebook page
Or go to our
VIDEO page
Can I Have a Trained Professional Install My Seats?
Maybe. :) Depending on where you are. You can always give us a call at 855-CLAZZIO and ask us questions. We can also direct you to your nearest Authorized Clazzio Dealer who can assist you with your install. Prices range anywhere from $100-$500, depending on vehicle type and heated seat install.
How Do I Keep The PVC Clean?
Simple. Use a damp cloth to wipe your PVC seat covers clean.